Sanson Machinery offers a wide variety of band saws to help you achieve your metal cutting requirements in your metal fabrication productions. Each band saw we offer creates precise, high-quality cuts in a wide variety of materials. Bandsaws have been traditionally the most commonly used method of cutting metals such as brass, copper, steel, aluminum and cutting iron. This is one of the least expensive and fastest options for metal cutting and is widely used throughout many industries including automotive, aircraft, and construction manufacturing.
Each of the band saw options offered from Sanson Machinery includes a rigid body and robust design to handle many years of usage. Band saws are available in a wide variety of sizes, capacities, and capabilities. Each band saw offers specific advantages depending on the type of application in which it is used. From small productions to large projects, you can find the right band saw for your metal fabrication application with the selection at Sanson Machinery.

Like our other metal fabrication machinery options, there are several different customized options for your band saw. These options include but are not limited to the feed mechanism, the fall mechanism, the blade tooth type, and the level of automation the band saw can produce. Each of these options with affect the speed, the quality of finished product, and the type of metals that can be cut with that particular saw. It is important to consider the type of applications for which you are using the band saw before determining the particular options you want to choose for your band saw. The band saw specialists at Sanson Machinery can help you analyze your specific metal cutting application to determine your band saw needs and which options are right for your selection. From simple metal cutting jobs to complex applications, we will help you find the best solution for your facility.

elumatec was founded in 1928 in the Swabian town of Mühlacker, between Karlsruhe and Stuttgart. At first we produced sand-cast parts; woodworking machines came later. In the 60s we focused consistently on profile machining for various materials, and with great success. Our clear focus on our ultimate goal – to secure and increase our customers' productivity – has made us a global market leader in the manufacture of machines for processing aluminium, PVC and steel profiles.
Our range of over 120 products means we can meet every possible requirement, with modular machine designs allowing flexible and customised solutions for all sectors and company sizes, from craftsman's enterprises to industrial profile machining operations.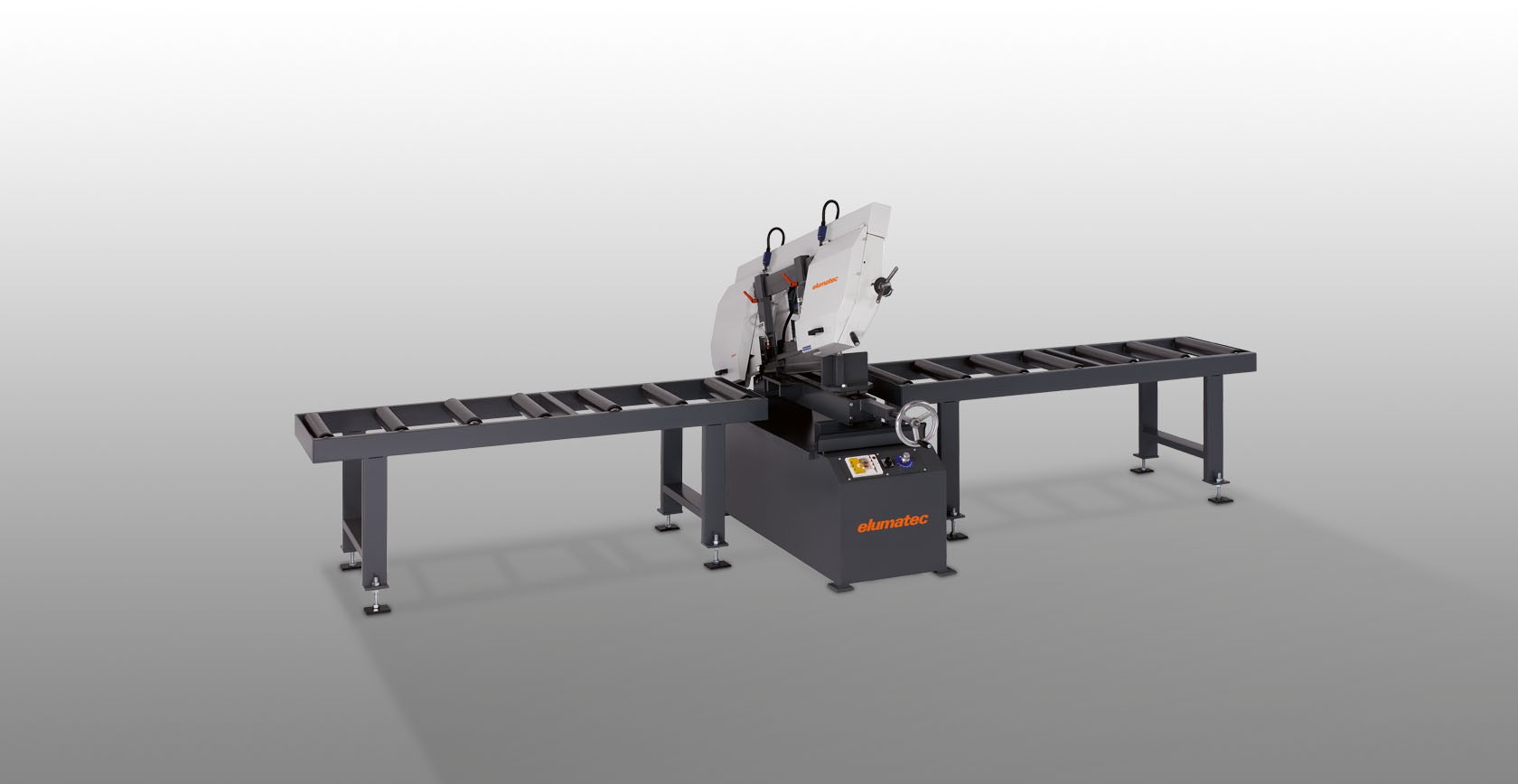 Founded in 1929 as "Grob Brothers," Ben and Ted Grob made their mark in the industrial saw and filing machine industry. Working their way through the Great Depression in a 20 x 20-foot garage, these two young engineers designed and built some of the most dependable and affordable vertical band saws and continuous filing machines ever made.
Although the company was successful, in 1951 the brothers parted business ways to explore separate ventures. Ben, staying in the band saw industry, went on to form Grob Inc. At that time, he also had an idea for a new process of cold forming gear and spline-like forms on accurately ground bars.
This revolutionary method-known to many in the industry as "Grob Rolling" – was ahead of its time in the 1950s and is still the best today. In fact, Grob Rolling has not only changed the foundation of the company, but has also changed the thinking of many end-users looking for a better way to produce stronger and more economical parts.
4V-24
24″ Throat Depth
12″ Work Height
The most powerful metal Cutting vertical band saws in the class. With a heavy duty Grob manufactured transmission. Frequency drive with dynamic braking available.