Vibratory deburring equipment is commonly used to complete the finish work for many pieces of fabricated metal. This process deburrs, cleans, and brightens all at once. This equipment can be used for a single piece of large finished product although it is commonly used to finish a large number of small pieces at the same time. This process involved a large tub that is filled with small pellets and the completed metal pieces that are to be finished with this process. The tub is then turned on and the vibratory finishing process begins. The vibration of the tub causes the pellets to rub against the metal pieces, and in the process rubs off all of the burrs and other metal shavings both on the exterior and interior of the metal pieces. The result of this process is a clean, finished product.
Sanson Machinery is proud to offer vibratory deburring and finishing systems to help you complete the finish work for large batches in a short amount of time. This system is ideal for any project that involves the mass production of relatively small metal pieces. For pieces that have detail work such as holes, notches, or other details, this process quickly cleans out any type of detail machining as well. This process provides and fast and convenient method of provide and smooth and consistent finish for all parts.
The extent of finishing can be controlled by adjusting the frequency and amplitude of the vibratory deburring machine. Keep in mind that the tub of the vibratory finishing machine is open so that the operator may observe the process and determine if the appropriate amount of finishing has been performed prior to completing the process. This method of finishing is also ideal for fragile parts. The nature of the motion and all parts and pellets moving in mass creates a safe environment for more fragile pieces making it possible to complete almost any project with a vibratory finishing system.
When you decide to pursue the purchase of a vibratory finishing system, our vibratory finishing specialists will help you analyze your metal processing applications and determine whether or not a vibratory finishing system is the best option for your finish work. We will also discuss various options such as additional safety features and the specific type of vibratory finishing system that may be right for your facility.


ALMCO has been in business for over 75 years manufacturing quality industrial deburring, polishing, tumbling equipment, and parts washers. In addition to a robust line of standard products, ALMCO will also design and manufacture custom equipment to meet a customer's specific requirements.
Our equipment is proudly made in the USA and serves a wide variety of industries. Leading companies within the automotive, aerospace, medical, ammunition, construction, and fastener industries, trust us to be their source for high-quality equipment, vibratory media, and on-goingservice.
VIBRATORY TUBS
Vibratory tubs are a perfect choice for deburring, burnishing or generating a pre-plate finish on a wide variety of parts. These machines work great as a stand-alone operation or designed into a custom system with conveyors and material handling equipment for automatic loading and unloading.
The tub cross-section is designed to maximize the finishing action. These machines are robust, versatile and capable of processing parts in batches or in a through-feed mode using a wide variety of finishing media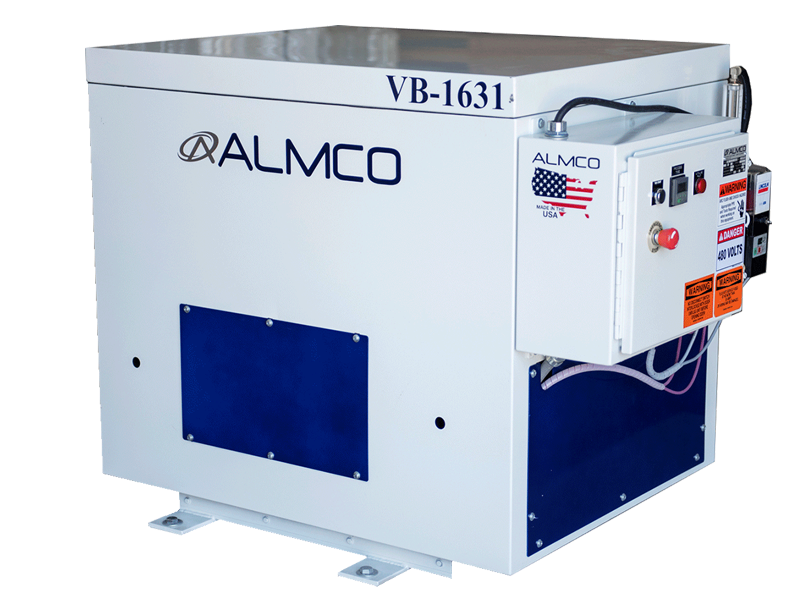 ULTRAMATIC
Vibratory Tumbling Media & Compounds
Since 1959 Ultramatic has been building the finest vibratory finishing equipment in a wide range of sizes and types.
In addition we manufacture vibratory tumbling media in a variety of ceramic compositions and shapes including plastic media.
Our Line of vibratory tumbling compounds are environmentally friendly and available in 5 and 55 Gallon containers.
We can ship from locations in Illinois and Texas.
VB Series
The ultimate finishing machine for finishing parts in a batch process. Wide process channel for larger parts, heavy duty drive systems for years of reliable service.
Features
Curved wall cast urethane lined bowl
Spherical roller bearing design in machined housings
Control Panel with timer *
Automatic Lubrication *
Heavy duty welded / stress relieved bowl
Ribbed side walls
Wet or Dry Process
Variable amplitude
230/460 3/60 volt
Plug door with quick lock
Replaceable drain inserts
Solution spray bar
* May be an option on some models refer to quotation